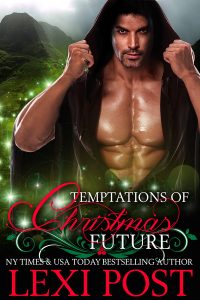 A Christmas Carol #3  $2.99
Amazon | Barnes & Noble | iBooks | Kobo |
When Joy, the Spirit of Christmas Future, is paired with a problem Spirit Guide, her positive outlook is tested beyond its limits. Will she persevere, or will the Spirit Guide, the young widow they're helping and her own outlook be the casualties of her weakness?
"Lexi Post has created yet another fabulous story that has all those good things that make a story perfect. This lady has an incredible talent for writing a steamy hot story with plenty of drama, mystery, and characters that quickly become friends. I enjoyed the whole idea behind this series. I love the Characters, I love the paranormal aspects and the storylines." – Reviews by Crystal
"This story was rightly named, because it will most definitely tempt your naughty side! Verra hawt and highly recommended!" – Reviewer, Veronica W.

Temptations of Christmas Future was inspired by Charles Dickens', A Christmas Carol.
He set out to prove the future was far worse than she imagined. Now he wished it wasn't.
Thanks to his shock tactics and pessimistic attitude, Scottish spirit guide Malcolm MacLachlan's job is on the line. What else did they expect from a former Glasgow Watchman? For his final assignment, he chooses his partner based on the probability of success, and Joy Collingwood is the very best. That he can prove to her the future isn't all puppies and marshmallows is an added bonus.
Joy is thrilled to help Malcolm, but their different methods threaten the success of their collaboration. If they can't find some common ground, they'll fail. What she doesn't expect is that their common ground will be her bed and her deepest secret will be revealed.
Yet her secrets are nothing compared to Malcolm's and their revelation could jeopardize everything…including her heart.
Excerpt from Temptations of Christmas Future:
"Why didn't you marry?"
Joy sighed. "I never found the right man. I thought I would be married at an early age and have a bevy of children, but being a hospice nurse limited my time to meet people. I mean people outside the family and friends of my patients." She cocked her head to the right.
Hospice? The word was no longer in use during his life. It took Malcolm a moment to pull up the meaning. "Were you always a hospice nurse or did you do other types of nursing?" He couldn't reconcile the poised, optimistic Joy with someone who worked around death all her life.
"Mostly. I had to work in different departments during my clinicals, but as soon as I graduated, I went right into hospice care."
"Why?" He couldn't help asking. He thought he'd be giving her a reality check when all along she'd worked with the dying? Something didn't fit.
"Why not? I was a nurse and nurses help people. I couldn't think of a better place than to help a patient die with dignity and grace. I also was able to help the families of my patients. It was a very rewarding career."
"Did you ever lose someone in your family? Someone close to you?"
She shook her head. "Not as an adult. I did lose my grandmother when I was young. I guess I had it easy. I was the first in my family to leave."
Now it made sense. The death and suffering she'd witnessed wasn't personal. Not that he expected it was easy, but it wasn't like having someone she loved killed in front of her eyes.
In that way, she was ignorant, and hopefully always would be. But it did explain why she was so positive. Helping patients die peacefully was one thing. Watching helplessly as someone he loved died in his arms was a completely different experience.
Romance inspired by the classics