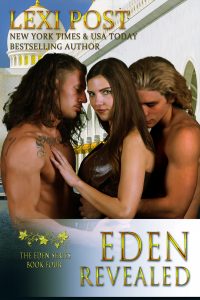 Amazon  Barnes & Noble    iBooks   Kobo
Amazon UK     Amazon AU                             Amazon CA    Amazon DE                              Amazon FR    Amazon ES
"Ms. Post writes an erudite well-crafted story with a good amount of suspense and tension. Characters are well developed and multi-dimensional. The story drew me in from the start and made it difficult for me to put the book down – but I do have to work for a living! My benchmark for my interest level in the story is whether I wake up in the middle of the night for just one more chapter. I surely did! Eden Revealed has my highest recommendation! You won't go wrong." – Amazon Review by Eileen McCall
"Toni is a good-time girl who learned early in life never to be vulnerable. Sandale has undergone the ultimate loss – his mind has been erased of all memories, leaving him homeless, friendless, loveless, and despairing. Akasha is an ascetic, devoted to withdrawal from the world so that he may be worthy to pass judgement on his fellow citizens without bias or emotion. These three are single, solo, and alone in the saddest of ways, but in the process of righting wrongs, reforming the government, and trying to accomplish their own goals, they learn (or re-learn) what it means to connect to fellow beings, to form a family, and to accept the imperfect bonds of love. Hot menage sex makes this strictly adult fare – a delicious, dramatic, and satisfying SF romance." – Amazom Review by Melanie S.
Eden Revealed was inspired by Emily Dickinson's poem "The White Heat."
A female spy, an Eden monk, and a man with no memory must reveal a corrupt leader while keeping their hearts safe—an impossible task.
Former stunt woman, Toni Reid, has adopted Eden as her new home. What's not to like with naked hunks walking around and women being worshiped by them? She doesn't mind a little distraction while spying on one of the leaders of the Ruling Circle, but just as she's discovered his secret, she's caught.
Akasha is next in line to take a place on the Triad panel, those who determine which men are morally good enough to receive a portal chip. He has kept his connections to people minimal so as not to be biased in his judgement, but when he discovers Toni spying, he has no choice but to capture her and discover what she knows.
Sandale is busy recapturing who he was before his memory wipe. Traveling to Naralina to rescue Toni is a good excuse to meet his family and hopefully find himself again. But Toni is more than a task, she is a force to be reckoned with, and his focus quickly shifts.
Akasha and Sandale soon find themselves embroiled in a plot that could well send Eden back into another world war over women. The only way to stop it is to work together with Toni, but working to stop a world war is easy when compared to laying siege to Toni's heart.
Excerpt from Eden Revealed:
Someone grabbed her arm. Toni instinctively balled her hand into a fist, but that one was caught too and twisted behind her back.
"Do not make a sound, understand?"
Sure, she understood. She understood she was going to relieve one Edenist of his balls the minute her arms were released. The man pulled her backwards, away from the peephole usually used for voyeurs and not for spies like herself. Yeah, she was toast if she didn't get out of this.
Every ounce of her being wanted to fight against the hold on her, but she gritted her teeth and pretended to be meek. She'd never been meek. Her friend Serena always told her she turned aggressive when she was afraid and she "needed to keep her head"—whatever that meant.
She took a deep breath as they stopped while the man behind her kicked a door open. She wanted to see who it was so she could gauge her ability to talk herself out of this one…after she brought him to his knees. Not only didn't she like being restrained, but aggression toward women was strictly forbidden on the entire planet. She doubted this Edenist would want to go before the Ruling Circle with Grandall in charge.
The man turned her toward the bed then pushed her away, slamming the door behind him.
She spun, her foot already headed for his groin as she glanced at his face. The air left her lungs in appreciation, even as his arm came down to knock her leg away from her intended target. As she turned, barely keeping her balance, her libido sighed in relief, but her ego wasn't so happy.
She stopped her movement and stood facing him, her weight on the balls of her feet. She tried to keep her anger up as she stared at the tall man with the long dark hair, light blue eyes, side-shaved head and the only tattoo she'd ever seen on Eden. This was her kind of male—just her luck.