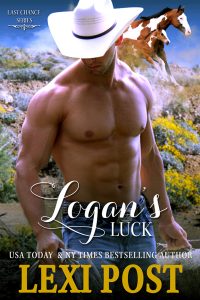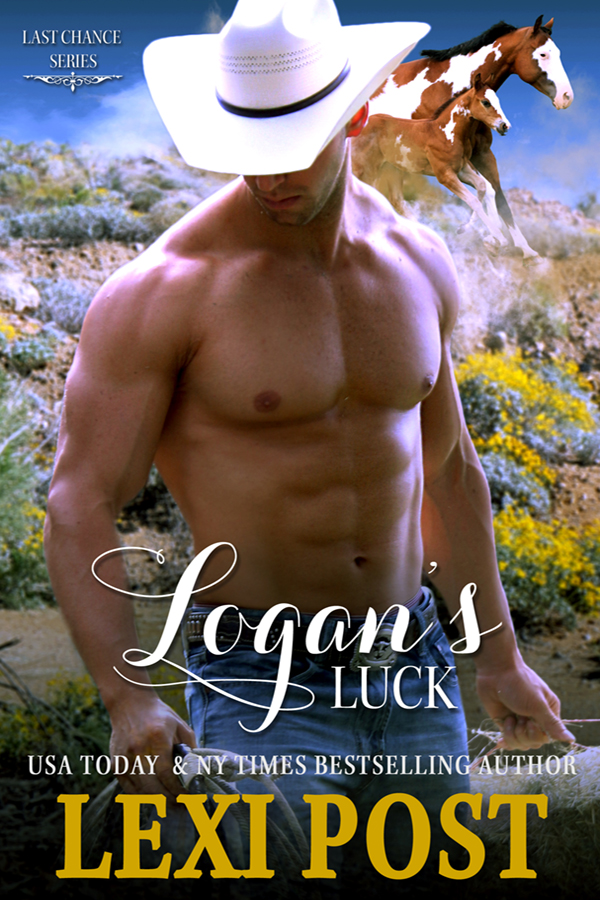 Last Chance Series #4 Released! $2.99.

Amazon      Barnes & Noble   iBooks        Kobo
Amazon UK      Amazon AU                              Amazon CA      Amazon DE                             Amazon FR      Amazon ES
"For those readers who love a little bit of angst, strong intelligent women, and one cute as a button toddler who just wants a Kissie, this story will melt your hearts and have you coming back for more." – Goodreads review by Karen Roma
"I loved the strong characters in this story! I loved the challenges that Logan and Jenna put themselves through. I loved how he was with the horses and his daughter. I loved that Charlotte was his world and how he was with her. Lexi Post really brought out the characters in this story! It was an amazing and hot story!" Amazon review by Katyjane
Logan's Luck was inspired by Bret Harte's 1870's short story "The Luck of Roaring Camp."
Logan Williams has plenty of luck. The problem is, it's all bad.
Logan Williams is not happy his cousin retained the services of Dr. Jenna for the Last Chance Ranch. She may be the local vet, but he'd hoped never to see her again. It had taken too long to forget her the first time.
Jenna Atkins is not afraid of Logan's bark because any man who looks at his baby daughter the way he does, must have a good heart buried somewhere in there. That doesn't mean she plans to get any closer than they already were.
But when baby Charlotte's mother arrives and sets her sights on Logan, Jenna discovers a territorial side of herself she didn't know she had. The question is, should she walk away and let Logan's luck run its course or should she interfere? Knowing Logan, either way, she's bound to get hurt.
Excerpt from Logan's Luck:
When Logan approached the stall, he heard Macy whine. Damn, he was right, it wasn't going well. He set the water bottles on a beam and leaned over the stall door, in no hurry to get into such a confined space with Jenna. "What's wrong?"
She didn't look at him. "The foal's legs are both coming out at the same time. That won't work. We need to get her up and walking or you could lose both of them."
"Fuck." He pulled open the stall door, his aversion to Jenna forgotten in his concern for Macy.
"Help me get her up."
"Up? She's trying to give birth." He looked at the small legs sticking out the vulva. "If we get her up, the foal might fall back in."
Jenna finally gave him her undivided attention. "That's what I'm hoping."
"What?"
"Listen, if we don't get her up and walking around, you're going to have one dead foal and one sick mama. Darn it, I wish I had Whisper here. At least she'd help instead of question everything I say."
He'd been about to argue, but at her last comment he shut his mouth and moved toward the horse. His brother's girlfriend, Whisper, was amazing with animals, but she was a bit odd. That Jenna would prefer her over himself irritated him, motivating him to show he could help.
With a few coaxing words and a push in the right direction, they got Macy up on her feet again. As he expected, the foal's feet disappeared into Macy.
"Now we need to walk her." Jenna issued orders like she was born to it, which rankled. He was the one who had run a ranch before. Yeah, and what a mess that was.
Swallowing his pride, he grabbed a halter. He hoped she knew what she was doing. He'd only had one mare in his lifetime have a difficult birth and they had lost the baby. At the time, it was all they could do to save the mother. Now, he couldn't imagine losing the foal. Must have something to do with being a parent himself.
Jenna walked Macy down to the opening of the barn and back a few times, then she handed him the leads. "Hold those for a moment."
He did as instructed, determined not to say a word. If he did, it wouldn't be helpful, of that he was sure. His gut felt like a bulldozer ran through it.
Jenna moved her hands over Macy's enlarged abdomen then she looked up at him. "Lead her into the stall. I think the foal has moved and Macy is not going to wait much longer. I just hope it has moved enough."
He led Macy inside to the fresh hay he'd put down when he'd noticed her condition. Quickly, he removed the halter. "Okay, Macy. It's up to you now, girl. Don't let me down."
Macy stood still as they backed away, then slowly lowered herself to the floor of the stall again and rolled on to her side. She started to breathe heavy and then the contractions began.
"Here we go. Cross your fingers, pray, or just hope that the foal exits correctly this time, or I will have to perform a cesarean in not so sterile conditions."
"Can't you do something to increase the odds in her favor?" She was a vet after all. "Like drugs or something?"
She frowned at him but turned her attention back to Macy when the horse whined. She spoke quietly. "Do me a favor and stay out of the way."
He ground his teeth to hold in his response. For Macy's sake, he'd step back, but after this, the woman would be getting an earful of opinion from him whether she wanted it or not.
Romance inspired by the classics