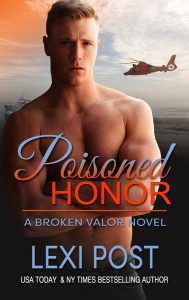 Poisoned Honor (Broken Valor #2)  $2.99

Amazon   Barnes & Noble     iBooks    Kobo           Amazon UK  Amazon AU                               Amazon CA  Amazon DE
 Reviews for Poisoned Honor

Lexi Post always writes a well-rounded story and Poisoned Honor is no exception. With strong, charismatic and honourable characters, a fast-paced, gripping and passionate storyline, this is definitely a book that has is all and keeps the reader engrossed till the very last page. – Goodreads Review by Karen Roma

Poisoned Honor captured my attention from the first page and held me captivated all the way through. Lexi Post has put together a heart racing, breath stealing, page turner of a story that is impossible to put down. – Reviews by Crystal

Poisoned Honor was inspired by William Blake's poem "A Poison Tree."
After a painful accident while on duty, Coast Guardsman rescue swimmer, Tyler Adams is determined to get back to work. Unfortunately, it has left him with a mental scar he can't conquer, a scar he must hide from the sexy psychologist he's very attracted to. But as more "accidents" plague the Air Station, he is forced to involve her.
Dr. Meghan Haskell is thrilled to have landed the government contract to help the Coast Guardsmen and women in Crystal Waters, Florida. She's also impressed that Tyler has had no need of her services even after his accident. Smitten, she jumps at the chance to spend more time with him…until he asks the unthinkable.
Beyond frustrated after another crew member is seriously hurt, Tyler pushes every boundary to expose the saboteur, inadvertently endangering Meghan. Now he must overcome his limitations or lose her forever.
Excerpt from Poisoned Honor (Broken Valor #2)
Chapter One
Tyler Adams heard the snap above him as the cable he held beneath the MH-65 Dolphin helicopter lost its tension and he plummeted toward the raging ocean.
Fuck. He was too high!
Fear shot through him, causing his heart to skip as adrenaline flooded his body. With the rush of energy, his brain clicked into action. Survive. What do I need to do to survive?
It hadn't been the first time his life had been threatened and his training kicked in. He looked down at the fast-approaching waves.
Bend at the waist. Shit, no time!
His body made contact, but it didn't feel like water, it felt like concrete as his knees gave way at impact. There was a blissful instance of nothing as he plunged beneath the surface and then pain exploded inside him.
"Arrggghhh!"
Tyler sat up in bed. Sweat coated his body. "Fucking goddamn nightmare." He rubbed his legs, the remembered agony of contact too real for any sane person. He wiggled his toes first to reassure himself they worked then bent his knees and threw his legs over the side of the bed.
Letting his head drop, he ran his hand through his short hair. Would he have these dreams forever? It had been four months since the accident. Why wouldn't they stop?
You have unresolved emotions.
The voice of the shrink he secretly went to hammered against his brain. He had only a week before he returned to regular duty. No one knew how much he dreaded that. How the fuck was he supposed to continue as a rescue swimmer when he'd woken in the hospital with a sudden fear of heights?
He glanced at the clock. 05:00. Today was his day off and he had an appointment with the shrink at 09:00. Maybe he could distract him, keep him from asking if he had the nightmare again. At least he'd convinced the Chief that he was fine, otherwise the government-contracted psychologist would never let him return to work.
Dr. Meghan Haskell was the one everyone was required to see if they needed help. He'd met her three weeks back when he'd given Drew a ride because it was raining. The kid didn't like getting wet and never wore a helmet while riding his foreign motorcycle.
He had the chance to see Meghan three more times, and every time he left he was glad she wasn't his shrink. There was no way he could tell her his issue. He'd be far too distracted.
Dr. Haskell was his age and stunning in a smart way. He always had a thing for gorgeous women in glasses. And she definitely qualified, grade A all the way. She dressed in a suit with a modest skirt, which showed off her toned legs in the high heels she wore. Her blouse was always demurely buttoned, but the profile of her suitcoat made it clear she had perfect curves.
It wasn't her beautiful body though that had him thinking about her more than he should. It was her eyes. They were a unique mixture of blue and green and they caught everything, his body movements, his tension, even his mannerisms.
That combined with her unique scent had his body paying attention. It was something citrus and spicy, like the tea she had in her hand last time he saw her.
She was always polite, giving him a smile. Class-act was written all over her, and he had every intention of asking her out after he returned to duty. There was no way he'd get closer to her beforehand. The last thing he needed was for her to figure out he was afraid of heights and tell his chief.
Even as he thought about her, his body started to respond, which was a lot better than how it felt a few minutes earlier. What he needed was a quick two-mile swim and three-mile run to help him shake off the vestiges of the nightmare. Standing, he stretched his arms upward, pulling at the knots in his back, more remnants from his accident.
He'd been lucky with a just a couple broken legs. Alix Buchanan had it a lot worse. He still couldn't believe Alix was paralyzed from the waist down after her accident last week. Flying helicopters was her life. Her expert maneuvering of the out-of-control copter had saved the lives of everyone on board.
There had been so many freak accidents at the Station in the last six months that some of the crew members said it was haunted. Even Kolbe, Alix's mechanic, had started researching the ownership of the land to make sure it wasn't located on an old Native American burial ground.
Moving forward, Tyler limped toward his bathroom, his awkward gait pissing him off. As the hot water sluiced over his muscles, his body rearranged itself in to better working order.
He grabbed the soap. Too bad he couldn't trade his nightmares for hot dreams of Dr. Meghan Haskell. He couldn't quite read her. Sometimes he thought she might be interested and other times not so much.
Maybe that was another aspect that attracted him, her poise. She always seemed so together. As a rescue swimmer, he rarely had the chance to see that. Any women he saved were either panicked or in shock though for good reason.
No matter why or how much he was attracted to the doctor, he refused to do anything about it until he was back on regular duty and had kicked his stupid fear to the curb.
Rinsing off, he let the heat of the water sooth his still healing body. He wanted to get back to saving lives. It was what he did and in another week or so, ready or not, he would return to hanging from a hovering helicopter above the waves. Way above the waves.
Romance inspired by the classics