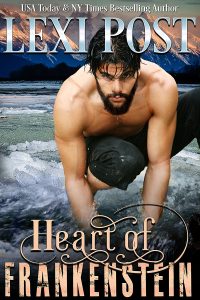 Amazon      Barnes & Noble   iBooks        Kobo
Amazon UK      Amazon AU                              Amazon CA      Amazon DE                             Amazon FR      Amazon ES
"This book just pulled me in and kept me intrigued from page 1 until the very end. I love the uniqueness her stories bring. I've said this before and I'll say it again about Lexi's writing, it's a breath of fresh air in a stale PNR world." – B&N Review by Ashley Clark
"At times I cried because I could feel the pain or the happiness of the characters. I don't think that I can fully explain how emotional, sensual, and entertaining this book was to me. I've read over 300 books this year and this will be one that sticks with me and will reread." – Amazon Review by BookSnuggle
Heart of Frankenstein was inspired by Mary Shelley's Frankenstein.
Can a monster find love?
In 1718, he was abandoned then betrayed, spurring his relentless desire for revenge against his creator, Victor Frankenstein. It is now the 21st Century, and despite his fervent wish for death, he still exists, tortured by his crimes, searching only for peace.
Angela Ellis would have frozen to death in the harsh Alaskan wilderness if not for the man who found her on an icy ledge. He calls her Angel, but has no name himself. He is kind, caring, handsome, and scarred both outside and inside. The more she learns about him, the more she wants to know…and the more she falls in love.
He is unworthy of love unless he can confess, but his secrets are buried deep and to reveal them would be to rip out his soul and lose his Angel. Unfortunately, he is given no say in the matter. Nature has a way of revealing all.
Excerpt from Heart of Frankenstein
He stared at the almost naked woman frozen on the ledge of the mountain. She was breathtaking, especially to him. The women in the far northern regions of Alaska were bundled up so much that he couldn't tell they were women. This woman had shed most of her clothes.
Her face, turned in profile, was white from the cold and her light eyelashes reminded him of dried cotton grass in the late summer. Her long neck revealed no pulse and her golden hair, spread out on one side, appeared as if it had been frozen while blowing in the wind.
He needed to move her, but he couldn't help staring. Her breasts were covered by a thin white top that left her toned arms bare. Her waist was narrow, but her hips flared out in the shape that was the epitome of woman. She had long, tight pink leggings that disappeared beneath her socks, but her boots were thrown amongst her scattered outer clothes.
She looked like a fallen angel. If she was alive, they would make a good match because his past made him closer to Satan than any other angel in man's lexicon of religions.
He looked back along the route he'd come. His tracks were obvious and unless a heavy snowstorm came in, they would remain so. Images of being attacked in Geneva sped across his mind. If anyone found her dead body here, he would be accused of murdering her.
With no choice, he crouched down, his heart heavy that such a beautiful woman in the prime of her life was gone. At least with hypothermia, her mind would have slept before she felt the final breaths of life leave her. Unlike his mate, who was gone before she could take her first breath. The age-old rage that used to fill him barely caused more than a stutter of his heart now.
Unable to resist, he stroked his bare finger over her cheek. At its softness, he drew back as if stung. Her cheek should be hard.
Hesitantly, he set his finger beneath her nose. Was that breath? He couldn't be sure. If it was, it was so shallow that she would die soon. Taking her delicate wrist in his hand, he felt for the pulse he couldn't see in her neck.
Nothing. Disappointment and sorrow rifled through him. Was he so enamored of her looks that he wished her alive? Doubting his own senses, he lay two fingers along the side of her neck. At first, he couldn't concentrate, her skin so soft it distracted him.
Finally, he forced his mind to cooperate. Thump————thump————. Elation swept through him almost toppling him over. He had only felt so once before. Now, on the heels of his euphoria came panic.
Romance inspired by the classics