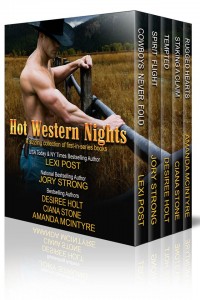 Hot Western Nights boxed set only 99 cents
Pre-order now available on Amazon
Five first-in-series western stories including  Cowboys Never Fold by Lexi Post.
Spirit Flight by Jory Strong
Tempted by Desiree Holt
Staking a Claim by Ciana Stone
Rugged Hearts by Amanda McIntyre
12 new cowboy firefighter stories including Cowboy's Match (Poker Flat #2) by Lexi Post
When cowboy firefighter Cole Hatcher is called to a fire at the Poker Flat Nudist Resort, he is sure his ex-girlfriend Lacey is to blame. But the more he investigates, the more the heat builds between them, and the more his gut tells him he's going to get burned.
Jahl, Khaos and Sandale easily save their chosen one on Earth, but convincing pyrotechnics expert Serena Upton to stay on Eden is going to be a lot harder.
For cover reveals and sneak peeks, sign up for Lexi Post Updates
WELCOME                                                                                                                Welcome to my website where erotic romance is the order of the day . . . or night, or any time in between. My hot romantic stories are inspired by the wonderful richness of classic literature, basically, my "what if" after reading one of these literary masterpieces. My peers tell me I write "erotic romance with a whole lot of story." It's not necessary to read the original to enjoy my romances, but if you do, it will add another whole dimension to the happily ever after. I hope you enjoy them . . . in so many ways.
Erotic romance inspired by the classics