How can those who have served find love and happiness when they believe they are broken?
Sometimes it takes another who understands where they are coming from to give them a place to heal, experts to help them through it and the camaraderie only found among their own.
The place is Broken Oak horse farm. The experts are those who love them. The comrades are from all branches of military.
Broken Valor Series buy link on Amazon
When Love Chimes (Broken Valor #1) $1.99
Amazon    Barnes & Noble    Kobo   iBooks 
Amazon UK        Amazon AU                      Amazon CA       Amazon DE
He's the right man at the wrong time with an unwanted Christmas proposal.
Poisone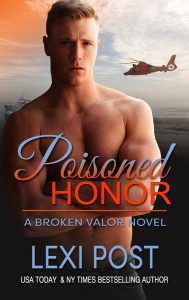 d Honor (Broken Valor #2) $2.99
Coast Guard rescue swimmer, Tyler Adams must push past the limitations of his near fatal accident to save the woman he loves or lose her forever.
Amazon   Barnes & Noble     iBooks    Kobo           Amazon UK  Amazon AU                               Amazon CA  Amazon DE
Romance inspired by the classics