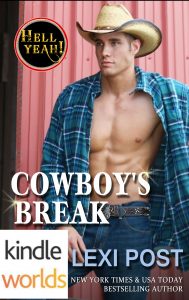 A Poker Flat novella (in Sable Hunter's Hell Yeah! Kindle World)
International Readers, instructions for purchase here.
"Rachel and Vance's story is full of suspense, humor and sexy bits to keep a reader glued to this book from cover to cover." – Amazon Reviewer Deb D

"I appreciate that Vance is solid enough in his manhood that he is able to handle an independent woman who rarely asks for help. They complete each other – the perfect soulmates!" – Amazon Reviewer
Cowboy's Break was inspired by "The Outcasts of Poker Flat" by Bret Harte and is part of Sable Hunter's Hell Yeah! series.
Cowboy and former detective Vance Gallagher never thought he'd have a second chance to convince Rachel Henderson they were meant to be together, nor did he think he'd want to. Now, after seven years, thanks to his old police academy friend, Vance is knee deep in numbers and computers, determined to save Rachel's ranch and his own heart.
Rachel hadn't expected to see Vance again…ever. In fact, she planned on it. Saying goodbye to him had been the hardest thing she'd ever done, but she couldn't handle her sister, the ranch, and his job as an undercover detective all at the same time. Now she's with him every day and buried feelings just won't go away.
The closer Vance gets to solving the mystery of the missing money, the more convinced he becomes that Rachel is the one for him. But when prize animals start disappearing, he has to choose between revealing the culprit and keeping the woman he's always loved from harm. He just can't catch a break.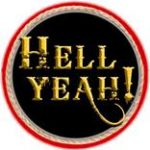 Check out all the Hell Yeah! Kindle World books here
Romance inspired by the classics