Welcome to Poker Flat Nudist Resort, the newest and nicest nudist resort in the entire southern half of the United States… if it was real.
Kendra Lowe has assembled a misfit staff and used her poker winnings to open a nudist resort in sunny Arizona. The question is can these misfits find love working at a place where the guests are naked or will they have to search for it somewhere else, or worse, give up on it all together?
The series is inspired by the short story, written by early American writer Bret Harte, "The Outcasts of Poker Flat."
When cowboy Wade Johnson honors a promise by working at a nudist resort, he discovers that to win the sexy owner's heart he must go all-in, which could mean baring more than his soul.
Amazon AU  Amazon UK  Amazon CA  Amazon DE
When cowboy firefighter Cole Hatcher is called to a fire at the Poker Flat Nudist Resort, he is sure his ex-girlfriend, Lacey, is to blame. But the more he investigates, the more the heat builds between them, and the more his gut tells him he's going to get burned.
Hunter, a cowboy who has lost so much. Adriana, a woman who never had it to begin with. Is this their best shot for happiness?
Amazon       Barnes & Noble                               iBooks         Kobo
Amazon UK     Amazon AU                             Amazon CA    Amazon DE                              Amazon FR    Amazon ES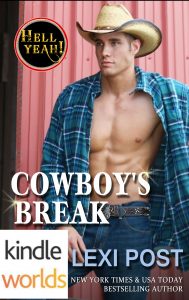 COWBOY'S BREAK #4 (in Sable Hunter Hell Yeah! Kindle World) August 2016
Vance never had an investigation so close to home. What if breaking the case means losing the woman he loves…again.
International Readers, instructions for purchase here.
Romance inspired by the classics