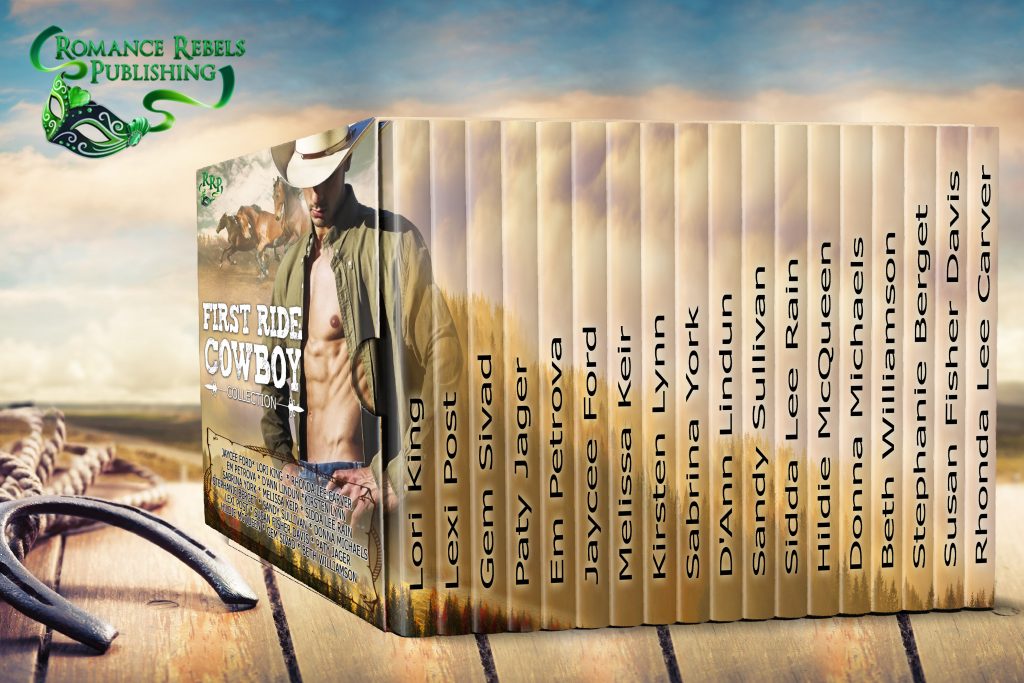 18 first-in-series cowboy stories for 99¢
Amazon | Barnes & Noble | iBooks | iBooks
Amazon AU | Amazon UK | Amazon CA| Amazon DE
Lori King- Forget Me Knot: Will her vacation into the heart of cattle country turn out to be a mistake?
Kirsten Lynn- Chocolate Cowboy: Returning to Wyoming two things surprised GySgt Jared Worrell…becoming the town chocolatier and Lucy Thomas. Coming home never tasted so sweet.
Gem Sivad-  River's Edge: From gunslinger to ranch owner. He's finding respectability a lot more dangerous than his former life of sin.
Melissa Keir- The Heartsong Cowboy: Can two people, one horse and the power of love cure a little girl?
Susan Fisher Davis-  Jake -Men of Clifton, Montana: He can tame the wildest stallion, but can he tame a stubborn redhead that wants nothing to do with him?
D'Ann Lindun- A Cowboy To Keep: A bull's hooves turned Laney's world to dust; bull riding gave Cody a life worth living—can they find common ground?
Donna Michaels- Her Fated Cowboy: Thrown back into the path of her first love, she finds hers is not the only heart fate has damaged.
Lexi Post- Cowboys Never Fold: A cowboy honors a promise by working at a nudist resort but to win the sexy owner's heart, he must bare more than his soul.
Em Petrova– Cowboy Crazy: Five brides for five brothers…at least that's the deal the Daltons have struck with their boys. Each son must marry in order to inherit a piece of the ranch they love so much.
Paty Norman Jager- Davis- Letters of Fate: A marriage of convenience ignites into a steamy romance and brings two strong wills together.
Beth Williamson- Lazarus: Being a Graham isn't easy, and it's about to get a lot harder for one stubborn lawman and the woman who still owns his heart.
Rhonda Lee Carver- Under Pressure: The Stone sisters know their way with a gun, rope, three-inch heels, and a cowboy's heart.
Jaycee Ford- Watching Fireflies: A cowboy who knew nothing of love. A city girl who wishes she didn't.
Sidda Lee Rain- Sweet as Candy: She may be the softness to smooth his rough edges. That is…if he can convince her to give an ol' rodeo bum a chance.
Sabrina York- The Real McCoy: She mistakes him for a stripper…he is happy to comply!